Commercial Cooking Equipment
At Supermarket Services, we are pleased to be able to offer our customers the highest quality industrial cooking equipment in the industry.
Whether you run a large restaurant operation or a small diner, we have the commercial cooking equipment you need to help your business's success. Browse through our extensive inventory that includes products from manufacturers like Star, Hatco, and Imperial and see the possibilities our restaurant equipment supply offers you. We will give you a cutting edge supermarket design and convenience store design! We are the supermarket plan and convenience store plan pros!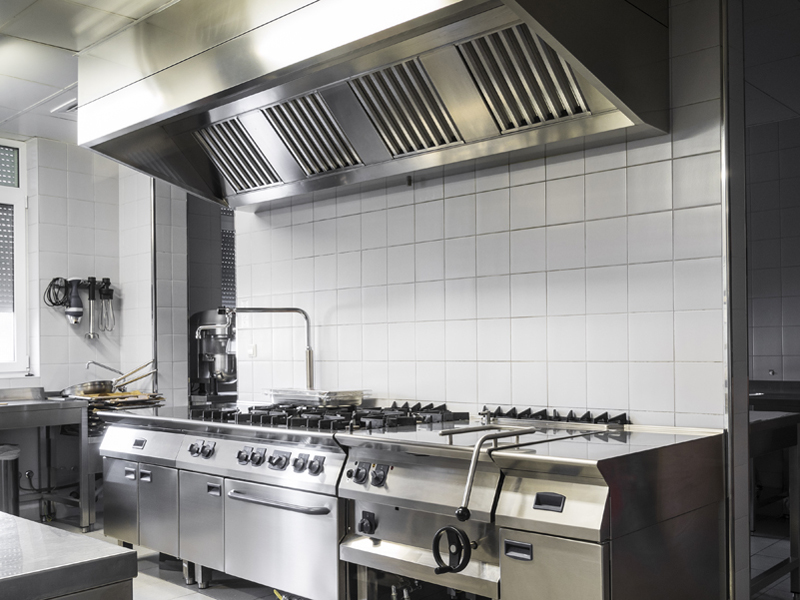 The original! Lang was the first to introduce a piece of industrial cooking equipment that can cut your cooking time in half! Whether you are looking at the Clamshell or the Add-On Clamshell Hood, both units grill from the bottom and broil from the top – virtually eliminating the need to flip product, cutting cooking time in half and increasing table turn times.
Catch the Panini craze! You've read about the panini sandwich craze in Nation's Restaurant News, Deli Business and many other trade publications…now it's your make the Pane Bella part of your operations! The delicious, hot grilled possibilities of the Pane Bella are sure to please any hungry crowd. Simple to operate, this compact grill has become standard commercial cooking equipment and offers a return on investment that will heat up any menu! Beware of imitators – this is the only grill of its kind to be made in the U.S.A., so parts and service are easy and quick to respond to your needs.
Whether you are a small convenience store with limited back room space for restaurant equipment supply, or a large chain franchisee demanding high powered technology, Lang offers a variety of convection oven controls including the Platinum, Purple Plus, Selectronic, Accu-Plus and Accu-Temp. Lang convection ovens are available in Extra Deep, Full or Half-Size – gas or electric. We're taking our cooking experience to a new level with the NEW Lang Platinum and the Purple Plus computerized convection oven controls. These new products are revolutionizing the foodservice industry with features and capabilities previously unheard of.
Built To Your Specifications!
Because every operation is different, Lang ranges are available in virtually every size and configuration. Whether your kitchen is spacious or compact, Lang has the industrial cooking equipment to fit your dimensions. All marine ranges are provided with standard marine hardware, including: stainless steel latches, grab bars, sea rails, and toe bases or adjustable, bolt down legs.
When you are seeking a heavy-duty, economical oven – check out the Lang Deck Ovens. Available in one or two pan model with single-, double- and triple-deck configuration, these deck ovens offer easy-to-use thermostat controls. And spring-loaded oven doors make this commercial cooking equipment a must for busy operations!
Infinite controls
Stainless steel front, top and sides
Adjustable grid height
Removable drip drawer
Mounts on any Lang range
Stainless steel exterior construction
Broiler section controlled by infinite controls
Ovens controlled by thermostat
When you want the output of a high capacity fryer, but don't have the room – look to Lang! Our fryers generate mountains of food quickly, and within the small footprint of only 15″. This saves valuable counter and floor restaurant equipment supply space. These kitchen staples can preheat from room temperature to 350°F in seven minutes and the specially designed kettle element configuration provides a "cool zone", channeling stray food particles to eliminate excessive carbon contamination. Lang fryers are available in two sizes – the 30 lb and the 50 lb.
Lang's griddles are designed to perform consistently, grilling product evenly – regardless of where it is placed on the griddle, or how much volume is being produced! Try installing a Lang Add-On Hood onto any Lang griddle, and you will have commercial cooking equipment that is unmatched in the foodservice industry. Highly energy efficient, Lang packs our griddles with all of the features you need – all as standard, not "options" as with other companies.
Lang griddles are specially designed to utilize 100% of the cooking surface – allowing for greater production per load. Lang griddles can be fully loaded from edge to edge, corner to corner, ensuring consistently cooked product no matter where the placement on the griddle.
The weight of a plate activates the Lang Cheesemelter and within 10 seconds the unit heats to 165° F with this industrial cooking equipment there is no preheating required! Since the oven is on only when in operation – you save energy and money! Menu applications of the Lang melters / finishing oven are endless – melting cheese, adding the browning and finishing touches to entrees and appetizers and finish fish, poultry, seafood, breads and much more!
Dynamic Baking Duo!
No matter if you have limited backroom restaurant equipment supply space, or are looking for equipment that can handle production for all day-parts – the Lang Proofer / Holding Cabinet and any Lang convection oven is a perfect fit! Breads to roasts – muffins to meringue – our proofer / holding cabinet is designed to prep and hold baked goods at the optimal temperature consistently. This is a must-have for every kitchen!
All Grocery/Convenience Store Products