Refrigerators and Reach In Coolers
For grocery stores and other businesses who sell cold drinks to customers—such as water, juices and sodas—a reach in cooler / refrigerator from Turbo Air, True Reach in Coolers, or MAXX COLD is a necessity.
Turbo Air - True Reach in Coolers - MAXX COLD
At Super Market Services, Inc., we provide glass door refrigerators and reach in commercial freezers as well as stainless steel reach in refrigerators from many of the top brands. Choose from True Food Service, Turbo Air, Beverage Air, Master Bilt and more to find the commercial refrigerator that fits your needs. This easy system allows your employees to more fully focus on other tasks and matters.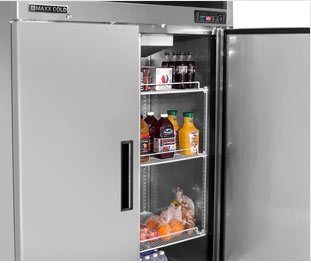 If you are not in the market for commercial refrigerators, but you need reach-in sandwich prep tables or reach in pizza prep tables, Supermarket Services has you covered there as well. We offer deli cases, ice cream freezers and other indoor and outdoor ice merchandisers that complement a wide variety of products. Whether you need a commercial freezer or solid door refrigerator, Super Market Services has the cooling device to satisfy your needs. Featuring quality beverage refrigerators and reach in coolers, your business can rely on Super Market Services, Inc. With our tight seals that reduce operating costs and paneling that is moisture-resistant, we have established our brand as the number one manufacturer of commercial refrigerators and freezers. We will give you a cutting edge supermarket design and convenience store design! We are the supermarket plan and convenience store plan pros!
All Grocery/Convenience Store Products