Supermarket Services carries a variety of coolers and freezers for the commercial industry. They sell walk-ins, reach-ins, display doors, refrigeration, ice machines, drink dispensers, beer caves, cabinetry and gondola shelving.
They are quality products at an affordable price.
Anthony Ardco Styleline Displayrite Glass Display Doors
Supermarket Services Company provides Glass Merchandising Doors for Walk In Coolers from all of the top manufactures. We handle Displayrite, Styleline, Ardco, and Anthony Glass Doors to retrofit your existing walk in cooler or walk in freezer or to be included in a new custom designed walk in cooler of freezer built to your specifications.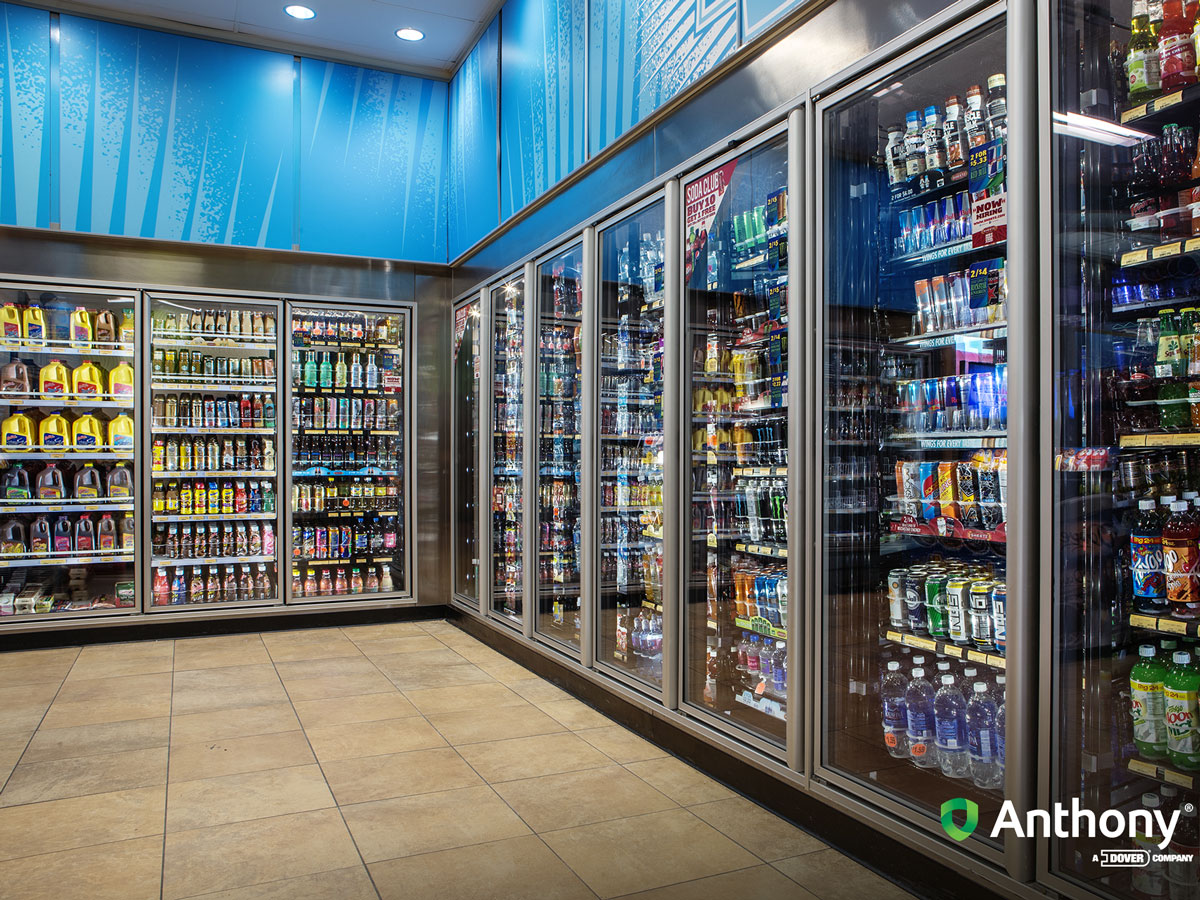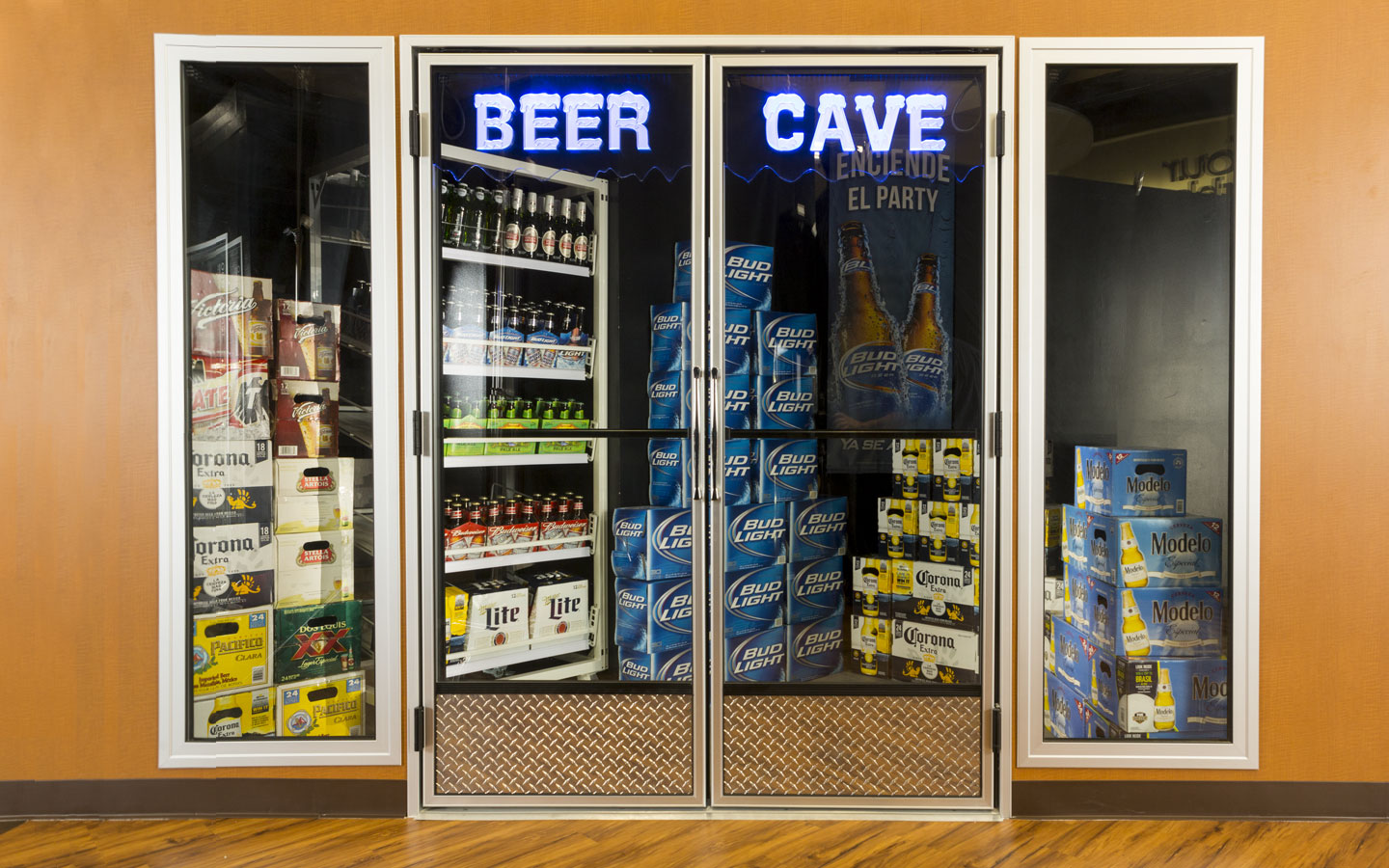 Once beer has been chilled for the first time, it loses quality every time it drops to room temperature and is chilled again. Before electrical refrigeration methods were invented, beer was stored in beer caves, deep holes underground or in the side of mountains. Fortunately, Supermarket Services is able to offer our customers modern beer caves that hold your products at 28 degrees Fahrenheit, which is the coldest possible temperature that beer can be stored at. This guarantees that you will have The Coldest Beer In Town.
These large refrigeration units are perfect for storing one of the most popular beverages in the world. From the time it arrives off the truck until the time it is placed in your customers hands, beer will stay chilled and fresh in our beer caves.
It doesn't matter if you own a huge grocery store or a small convenience store, if you sell beer, you will need a beer cave from Supermarket Services. Our technicians will work with you to design and create a beer cave refrigeration unit that will meet or exceed all of your needs. The quality of our products and the reliability of our service is guaranteed.
Remember, Supermarket Services is your one-stop shop for all of your grocery and convenience store equipment needs. From industrial refrigeration units and walk-in coolers to hot and cold drink dispensers and domestic ice making machine units, we have got what you need to run a successful business. Plus, our company can even handle the layout of your store to create a customer-friendly atmosphere that maximizes profits.
Modernize your business with contemporary commercial seating from Supermarket Services Company. We carry a full-line of contemporary booth seating for restaurants, convenience stores, bars, nightclubs and more, from all of your most trusted brands and manufacturers. At Supermarket Services Company we take the time to personally work with each customer, to be sure that you are finding exactly the right booth seating or contemporary commercial seating that you need at a price you can afford.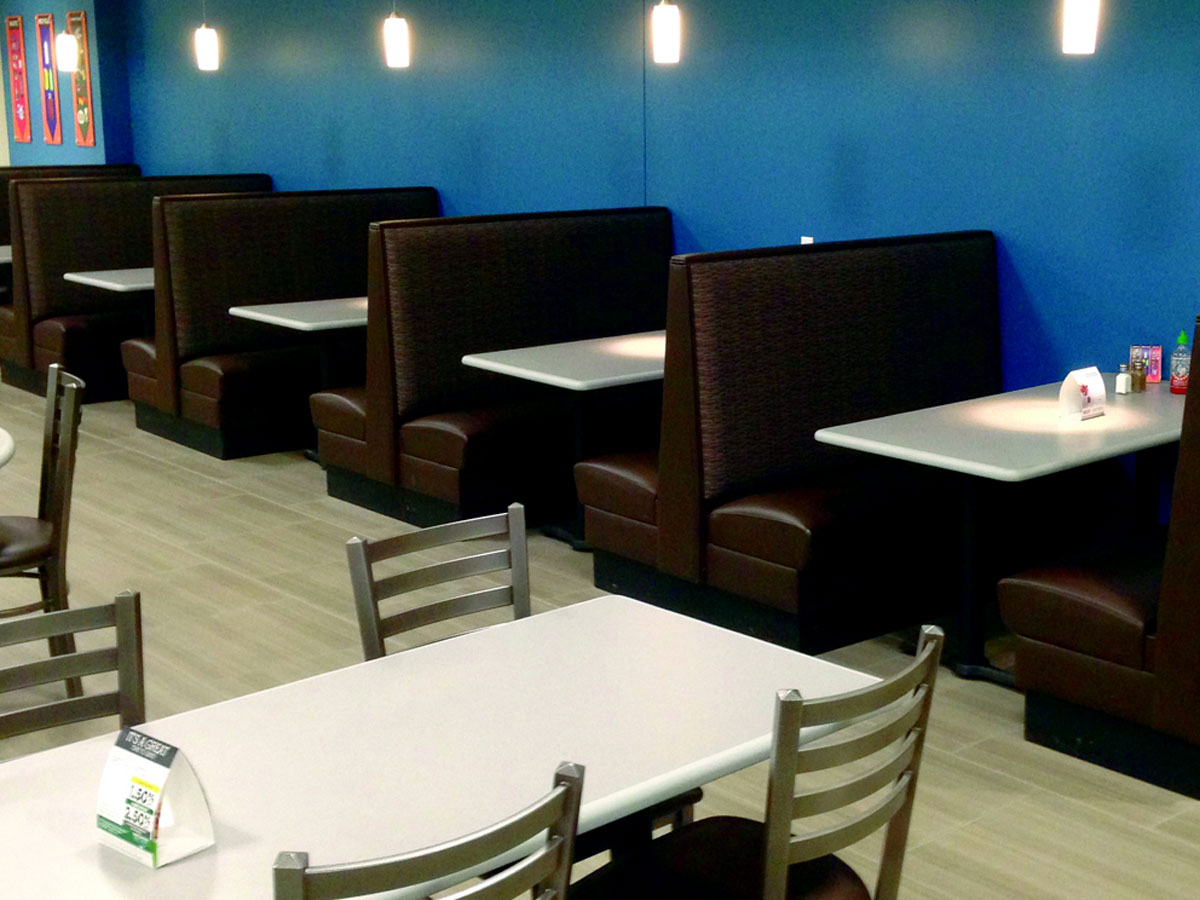 With so many choices for contemporary commercial seating, it can be hard to find something that will fit your unique decor, while still being high-quality and affordable. That's why we are dedicated to 100% customer service, to work hand-in-hand with you to find the right booth seating, tables or chairs that you need to enhance your facilities. Simply browse our extensive online catalog, and then give us a call with any questions or concerns. We'll work together to bring your business a modern look at an affordable price.
It's simple. At Supermarket Service Company we strive to match our customers with the products that will best serve your needs. That's why we offer a real life, hassle-free salesperson to assist you, and one of the most comprehensive catalogs in the business.
We have an extensive catalog of products including:
Finding the right commercial seating for your specific facility can be a huge undertaking of time and lead to countless questions. What will fit in this space? Does it come in this color? Can it support this much weight? Searching for the right seating can lead to endless frustration. At Supermarket Services Company, we understand this, which is why our experienced sales-staff is here to answer all your questions and provide personalized, one-on-one customer service.
Browse our extensive online catalog of contemporary commercial seating, and then give us a call if you have any questions. We can meet all your needs for tables, chairs and contemporary booth seating for restaurants, bars, nightclubs, or even your home and office. Contact us today; we'll work to find you the right commercial seating at the right price. Guaranteed.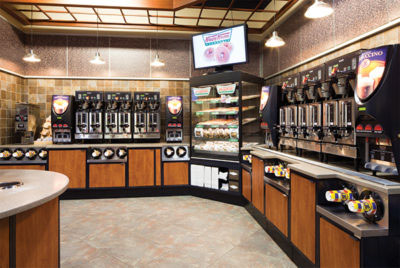 Please contact our knowledgeable sales staff today via email or call us at (800) 711-8982.
Weather you prefer Metal Cabinetry or Conventional Wood Cabinets, Supermarket Services can take care of your needs for commercial wall cabinets. We Supply Royston Cabinets and Shopco Cabinets.
A Well Designed Commercial Cabinet System helps to Project a positive store image for your customers with durable, well presented, well-organized fixtures.
Supermarket Services commercial wall cabinets support your brand or your image!
Through striking color, texture, graphic and laminate combinations, our commercial cabinets leave a lasting impression on your customers – positioning your store brand, and the shopping experience, favorably in their minds.
Commercial Cooking Equipment
At Supermarket Services, we are pleased to be able to offer our customers the highest quality industrial cooking equipment in the industry. Whether you run a large restaurant operation or a small diner, we have the commercial cooking equipment you need to help your business's success. Browse through our extensive inventory that includes products from manufacturers like Star, Hatco, and Imperial and see the possibilities our restaurant equipment supply offers you.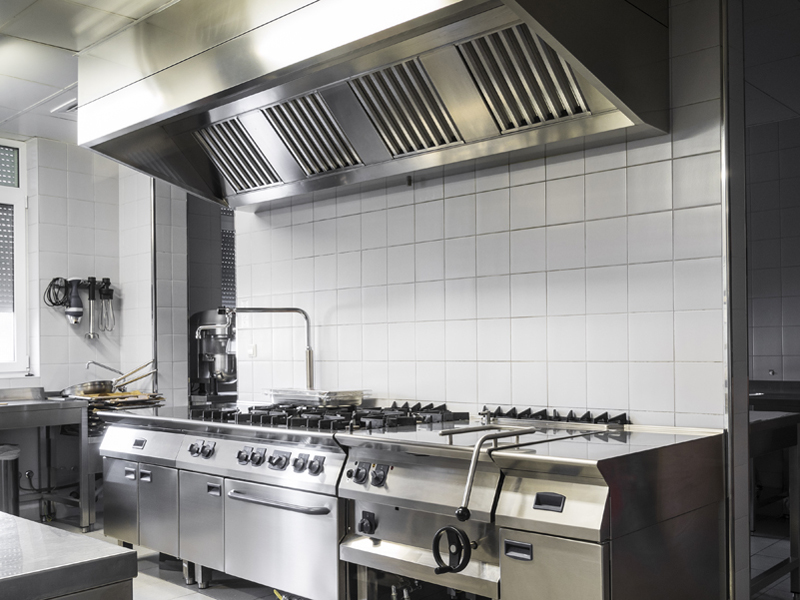 The original! Lang was the first to introduce a piece of industrial cooking equipment that can cut your cooking time in half! Whether you are looking at the Clamshell or the Add-On Clamshell Hood, both units grill from the bottom and broil from the top – virtually eliminating the need to flip product, cutting cooking time in half and increasing table turn times.
Catch the Panini craze! You've read about the panini sandwich craze in Nation's Restaurant News, Deli Business and many other trade publications…now it's your make the Pane Bella part of your operations! The delicious, hot grilled possibilities of the Pane Bella are sure to please any hungry crowd. Simple to operate, this compact grill has become standard commercial cooking equipment and offers a return on investment that will heat up any menu! Beware of imitators – this is the only grill of its kind to be made in the U.S.A., so parts and service are easy and quick to respond to your needs.
Whether you are a small convenience store with limited back room space for restaurant equipment supply, or a large chain franchisee demanding high powered technology, Lang offers a variety of convection oven controls including the Platinum, Purple Plus, Selectronic, Accu-Plus and Accu-Temp. Lang convection ovens are available in Extra Deep, Full or Half-Size – gas or electric. We're taking our cooking experience to a new level with the NEW Lang Platinum and the Purple Plus computerized convection oven controls. These new products are revolutionizing the foodservice industry with features and capabilities previously unheard of.
Built To Your Specifications!
Because every operation is different, Lang ranges are available in virtually every size and configuration. Whether your kitchen is spacious or compact, Lang has the industrial cooking equipment to fit your dimensions. All marine ranges are provided with standard marine hardware, including: stainless steel latches, grab bars, sea rails, and toe bases or adjustable, bolt down legs.
When you are seeking a heavy-duty, economical oven – check out the Lang Deck Ovens. Available in one or two pan model with single-, double- and triple-deck configuration, these deck ovens offer easy-to-use thermostat controls. And spring-loaded oven doors make this commercial cooking equipment a must for busy operations!
Infinite controls
Stainless steel front, top and sides
Adjustable grid height
Removable drip drawer
Mounts on any Lang range
Stainless steel exterior construction
Broiler section controlled by infinite controls
Ovens controlled by thermostat
When you want the output of a high capacity fryer, but don't have the room – look to Lang! Our fryers generate mountains of food quickly, and within the small footprint of only 15″. This saves valuable counter and floor restaurant equipment supply space. These kitchen staples can preheat from room temperature to 350°F in seven minutes and the specially designed kettle element configuration provides a "cool zone", channeling stray food particles to eliminate excessive carbon contamination. Lang fryers are available in two sizes – the 30 lb and the 50 lb.
Lang's griddles are designed to perform consistently, grilling product evenly – regardless of where it is placed on the griddle, or how much volume is being produced! Try installing a Lang Add-On Hood onto any Lang griddle, and you will have commercial cooking equipment that is unmatched in the foodservice industry. Highly energy efficient, Lang packs our griddles with all of the features you need – all as standard, not "options" as with other companies.
Lang griddles are specially designed to utilize 100% of the cooking surface – allowing for greater production per load. Lang griddles can be fully loaded from edge to edge, corner to corner, ensuring consistently cooked product no matter where the placement on the griddle.
The weight of a plate activates the Lang Cheesemelter and within 10 seconds the unit heats to 165° F with this industrial cooking equipment there is no preheating required! Since the oven is on only when in operation – you save energy and money! Menu applications of the Lang melters / finishing oven are endless – melting cheese, adding the browning and finishing touches to entrees and appetizers and finish fish, poultry, seafood, breads and much more!
Dynamic Baking Duo!
No matter if you have limited backroom restaurant equipment supply space, or are looking for equipment that can handle production for all day-parts – the Lang Proofer / Holding Cabinet and any Lang convection oven is a perfect fit! Breads to roasts – muffins to meringue – our proofer / holding cabinet is designed to prep and hold baked goods at the optimal temperature consistently. This is a must-have for every kitchen!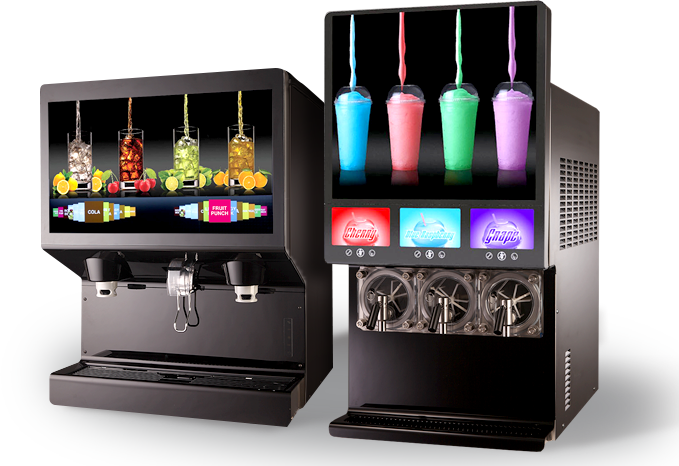 As owners of convenience stores know, one of the best items you can have for your customers is a fountain drink dispenser. Actually both hot and cold drink dispensers are essential for the best possible service. Hot and cold drink dispensers allow customers to quickly and easily get the drink of their choice directly from you. Whether they want cherry cola or a French Vanilla cappuccino, you will be able to provide it to them. In addition to a wide array of convenience and grocery store equipment, Supermarket Services offers many hot and fountain drink dispenser units. 
Our products are made from the highest quality materials and offer the durability and efficiency you need to streamline your business operations.
Supermarket Services is pleased to be able to offer the following products from one of the most prestigious manufacturers in the industry:
Convenience Store Floor Plan
If you own a convenience store, you have to fit a lot of items in one small space. People looking for milk, batteries, bread, laundry detergent, magazines, snacks, coffee, and other items want to be able to find what they need quickly. They don't want to waste time looking, and you can't afford to help every customer find what's on their shopping list. Therefore, having an effective convenience store floor plan is the key to maximizing your business. At Supermarket Services, we will help you achieve the best possible layout for your business by creating a convenience store layout diagram tailored to your business that is both customer-friendly and likely to maximize your profits.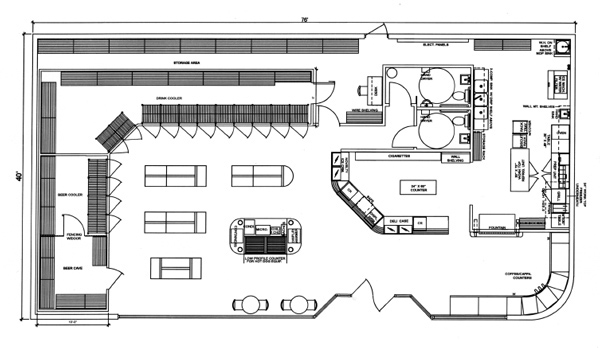 At Supermarket Services, we are the convenience store floor plan design experts. We will work directly with you to combine your ideas of how you want your store to look with a traffic sensitive design that ensures your new convenience store floor plan layout incorporates style and function equally. Your customers will be pleased to find everything they need quickly and easily, and you will be happy to see your profits soar.
When you are relying on Supermarket Services, you are relying on a team of experts with more than 13 years experience creating convenience store design specs. We will develop your floor plan from the ground up, and we guarantee satisfaction. Let us assist you in creating your convenience store floor plan diagram. With an effective convenience store diagram, you don't need to put your attention on matters like where to put the candy bars. You can keep you attention where it needs to be on running your business.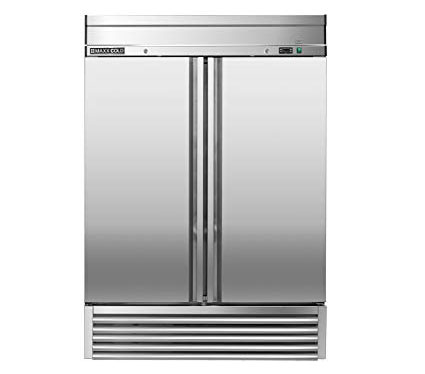 Commercial Freezers
Supermarket Services Company Inc. offers customers the latest in refrigeration equipment for supermarket jobs as well as large warehouses and convenience stores. Supermarket Services combines the needs of the customer with an engineered commercial cooler / refrigeration system, sized specifically to meet the customer's needs. 
We take into consideration the product loads as well as demands placed on the commercial freezers or refrigeration units given the ambient temperature in any particular area of the world. We offer refrigeration equipment from ½ hp up to 80 hp refrigeration systems. Supermarket Services Company Inc. can handle any job offering a complete turn key installation if that should be the customer's desire!!
Remember, our commercial freezers and refrigeration units offer the following great features:
Quality Retail Shelving
At Supermarket Services, we provide store shelving systems from a variety of manufacturers, including: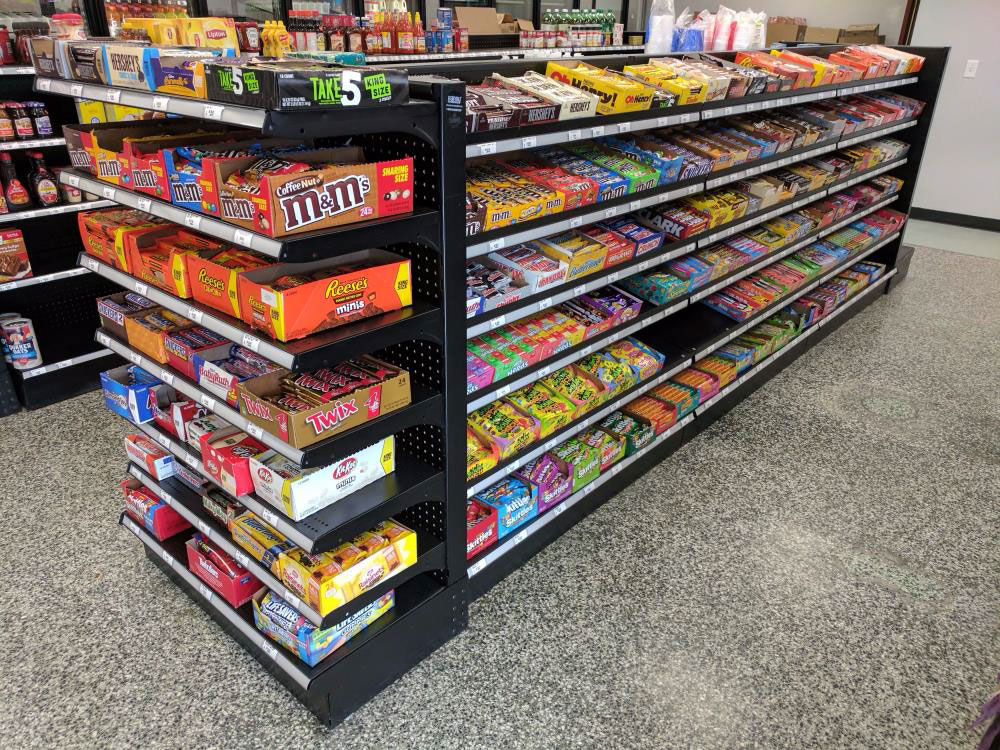 Our retail shelving provides retailers with a number of options for customizing each store's fixture layout. Whether you need gondola shelving, wall shelving, end caps, or three-and four-way merchandisers; Supermarket Services Company, Inc. can match the options and design that best fits your merchandising needs.
The supermarket shelving systems available from Super Market Services are strong and versatile. Each shelf on our retail shelving units has slim, sturdy, multi-position steel brackets that allow the shelf to be used in multiple merchandising arrangements. The shelf diversity provides increased product visibility while reducing the wasted space caused by bulky brackets.
Meticulously engineered, our gondola shelves feature high tensile steel uprights that are slotted one inch on center for convenient shelf placement. Built-in levelers and snap-together parts make installation simple while yielding an exceptional load capacity. The thousands of accessories available for gondola display shelving will address the particular needs of each store, and all parts and accessories install easily. Supermarket Services has the professional staff to assist you in selecting the right retail shelving for your store, and our customer service guarantee helps you buy with confidence.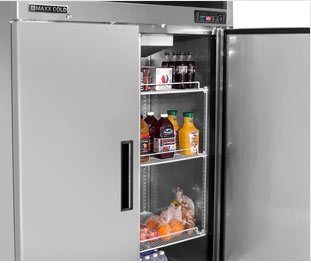 Refrigerators and Reach In Coolers
Turbo Air, True Reach in Coolers, MAXX COLD
For grocery stores and other businesses who sell cold drinks to customers—such as water, juices and sodas—a reach in cooler / refrigerator from Turbo Air, True Reach in Coolers or MAXX COLD is a necessity. At Super Market Services, Inc., we provide glass door refrigerators and reach in commercial freezers as well as stainless steel reach in refrigerators from many of the top brands. Choose from True Food Service, Turbo Air, Beverage Air, Master Bilt and more to find the commercial refrigerator that fits your needs. This easy system allows your employees to more fully focus on other tasks and matters.
If you are not in the market for commercial refrigerators, but you need reach-in sandwich prep tables or reach in pizza prep tables, Supermarket Services has you covered there as well. We offer deli cases, ice cream freezers and other indoor and outdoor ice merchandisers that complement a wide variety of products. Whether you need a commercial freezer or solid door refrigerator, Super Market Services has the cooling device to satisfy your needs. Featuring quality beverage refrigerators and reach in coolers, your business can rely on Super Market Services, Inc. With our tight seals that reduce operating costs and paneling that is moisture-resistant, we have established our brand as the number one manufacturer of commercial refrigerators and freezers.
Supermarket Services Company, Inc. has been specializing in all types of walk in coolers including products from Crown Tonka, US Cooler, Carroll Coolers refrigeration systems since 1996. We offer our customers the highest quality products at the absolute lowest price. We represent Crown Tonka, Carroll Coolers, Kysor, and Leer walk-ins. If you are looking for a walk in package with display doors we offer Anthony, Ardco, Commercial Display Systems, Gemtron, and Styleline glass door companies. We supply refrigeration systems manufactured by Heatcraft and Russell. Our products ship out of TX, OK, IA, CA, AZ, FL, WI, GA, and TN. No matter what part of the country you are located we have a shipping point close to you.
We have a quick ship program available for those who do not have time to wait on their coolers. There are some restrictions on actual sizes but we can usually ship these out within 48 hours. We also stock everything from .5hp-7.5hp condensing units, and evap coils that are available for immediate shipment. We have glass display doors that will ship within 24 hrs if you are needing doors immediately.
Unlike some of our competitors we offer all types of walk in coolers – wood frame, all foam, polystyrene, polyurethane, and polyurethane hard rail. Each has its place in the market. We feel it is only fair we explain the benefits of all and allow our customers to choose which type better fits their needs. Give us a call!
Our sales staff has over 75 yrs of experience in Walk-in Cooler sales, installation, and service. Our owner comes from the installation side of the Industry. Our sales staff have all been involved in the installation. So we are not just a sales office operating out of an apartment. We have crews setting up walk-ins on a daily basis.
From walk in coolers to custom-built glass door walk in freezers, Supermarket Services has it all. We build custom designed walk in coolers per your dimensions, which are manufactured to meet your specific job needs. We offer both Eurethane walk ins as well as Styrene insulated coolers, which come with or without refrigeration and glass display doors. Choosing a walk in fridge may seem like a small detail of your business, but to us, it's everything. At Supermarket Services, we are committed to putting quality and workmanship first, which is why we're number one in the industry for manufacturing walk in coolers. Our team is dedicated not only to meeting your needs, but also to surpassing your expectations (and those of your customers). We stand behind every walk in freezer we sell with the best warranty in the business. We stay involved from the initial design through the delivery and installation to ensure that everything runs smoothly, on time and to your satisfaction.
Supermarket Services Company, Inc. works directly with our customers to ensure that our walk in freezers for sale are sure to impress. When we make a walk in refrigerator, we use many supplies, including foamed-in-place urethane panels manufactured to exact dimensions specified (not nominal sizes). All panels utilize the cam-action-fastening device and perimeter vinyl gasketing is used to assure a tight, positive seal.
At Supermarket Services, our walk in coolers for sale are built using the best material available and all units are designed in accordance with the National Sanitation Foundation (NSF) Standard No. 7. Please contact us if you have questions about any of the following.
Cooler/Freezer Combos
Floral Coolers
Glass Door Freezers
Shelving, Strip Curtains, etc.
This 66 door Walk-in cooler is located in Lubbock, TX It has 33 glass doors on each side. SSCI sold it, delivered it, erected it, and installed the refrigeration. We also saved our customer over 20K on this cooler. It is just one of hundreds we sell each year. We will custom build any size, shape or type of Walk-in Cooler or Beer Cave. No cooler is to small or too big.